St Patricks Day drinking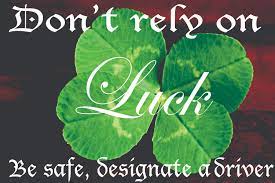 I saw the lines outside local breweries at 6 am. t's St. Patrick's Day, and lots of people are ready to drop in to their favorite watering holes to be Irish for a day! It's all in fun and friendship, right?
But on a day like this, when more kegs are being tapped during daytime hours than most others during the year, it's easy to get caught up in the moment. Get-togethers bring stories and memories, and the time just keeps going by as people order more green beer while they talk about everything from babies to weddings to funerals.
So how do you know what is too much, not just on St. Patricks' Day but every day? We'll reivew a few tips in a moment, but first - a few St. Patrick's Day statistics*:
in 2019, 63 percent of St. Patrick's Day car-related fatalities involved drunk drivers
beer sales increase by 174 percent on St. Patrick's Day
on average, drinkers take in 4.2 drinks on St. Patrick's Day
All that to say that, based on the numbers, more people are drinking more on a day like this. So how do you handle yourself better, or at least a little wiser? 
designate a driver.
drink water and eat something between beers or other alcoholic beverages
stay with your drinks
if you drive, drive slow
There are other tips you can easily find online. The bottom line is, if you're going to imbibe on St. Patrick's Day - or any other day - have a plan with others to ensure everyone stays safe.
*https://www.therecoveryvillage.com/recovery/related/binge-drinking-st-patricks-day/