Here comes fall!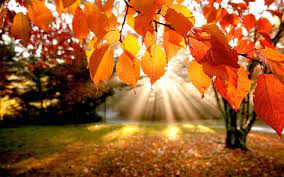 The thermometer doesn't really feel like it, but fall is (sort of) in the air!
You can almost feel the cooler temps starting to come our way as mornings start out a little more crisp than they have in the past few weeks. With the change in weather, too, comes a sense of getting ready to "hunker down" during the cold that will surely follow.
It's also a time for some that evokes more fear and anxiety. It's called "autumn anxiety" and it is a real thing.
What does it look like? According to TheHealthy.com. autumn anxiety is "an increase in worry, fear, and other negative emotions related to the change of the seasons." There are a couple of sources for this: physical changes that happen when the Earth's axis changes and affects our mood. The other is changes in environment that come with anticipating colder weather coming. You can learn more about it all here.
So, what's the answer? Experts say you need to acknowledge and identify triggers and create a plan to manage them before they get out of control. Common triggers are starting a new school year, the arrival of cold and flu season, even the coming loss of summer's freedom.
If it all gets overwhelming, reach out for help. Our network of provider agencies offer many services that can assist you, from individual counseling to groups and other supports.