holiday anxiousness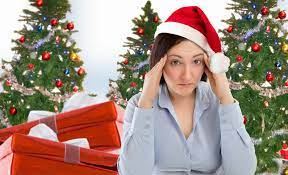 It's no secret that the holidays can make even Santa a little anxious. After all, who wouldn't be a tad worried about making sure every good little girl and boy gets exactly what they want?
Truth be told, we all face some anxiousness around the holidays. conversation topics, available treats, enough to do while the family is together - it can all be daunting and worrisome for anyone hosting - or even helping the host of the festive day or two in each other's company.
So how do you manage the stresses of the season? What's the best approach to easing your anxiousness around all the family "togetherness"? The Mayo Clinic has some ideas. Here are a few:
Reach out. Those who feel isolated might seek out community, religious, or social events that offer support and companionship. Talk with a trusted friend, or even volunteer some of your time. It can lift spirits AND do some good!
Be realistic. Know that the holidays won't be perfect. Your hopes for a Hallmark(R) Christmas aren't necessarily going to materialize. Instead, why not meet virtually with loved ones who can't be home this season?
Stick to a budget. Decide early how much you can afford to spend on gifts, then stick to it. Happiness isn't in the gift itself, but in the act of giving.
If the season is still difficult, please call the Crisis Hotline at 877-695-6333, or dial 9-8-8 to be connected to a caring individual ready to listen and offer some strategies that could help. They can also connect you to local agencies and resourcs where you can find an ear to listen and work with you to find solutions.
No matter what, always know we care and are here for you! We wish you a joyous holiday full of care and community.