minority mental health month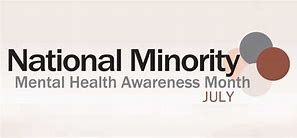 You may be pretty familiar with the statistic: one in five Americans are living with a mental illness. That's according to the National Institute of Mental Health, which says that in 2017, that meant 46.6 million Americans were affected.
But while many Americans will seek treatment, the minority community is different. According to Each Mind Matters, a California resource center, those in the minority community are less likely to receive help. Among those that do, their care is of poor quality.
The factors that feed into why this is so are varied. Stigma, lack of income or insurance resources, and fear of discrimination because of the color of their skin all play a role.
That's why, during Minority Mental Health Awareness Month in July, we will share information both in this blog and on social media about the importance of help for EVERYONE affected by mental illness, regardless of the color of their skin, where they come from, who they love, or any other factor.
Everyone deserves quality, affordable care for mental health and addiction issues. It's what we at MHRS believe and work to ensure in our service area. We hope you'll join us in working for that outcome.